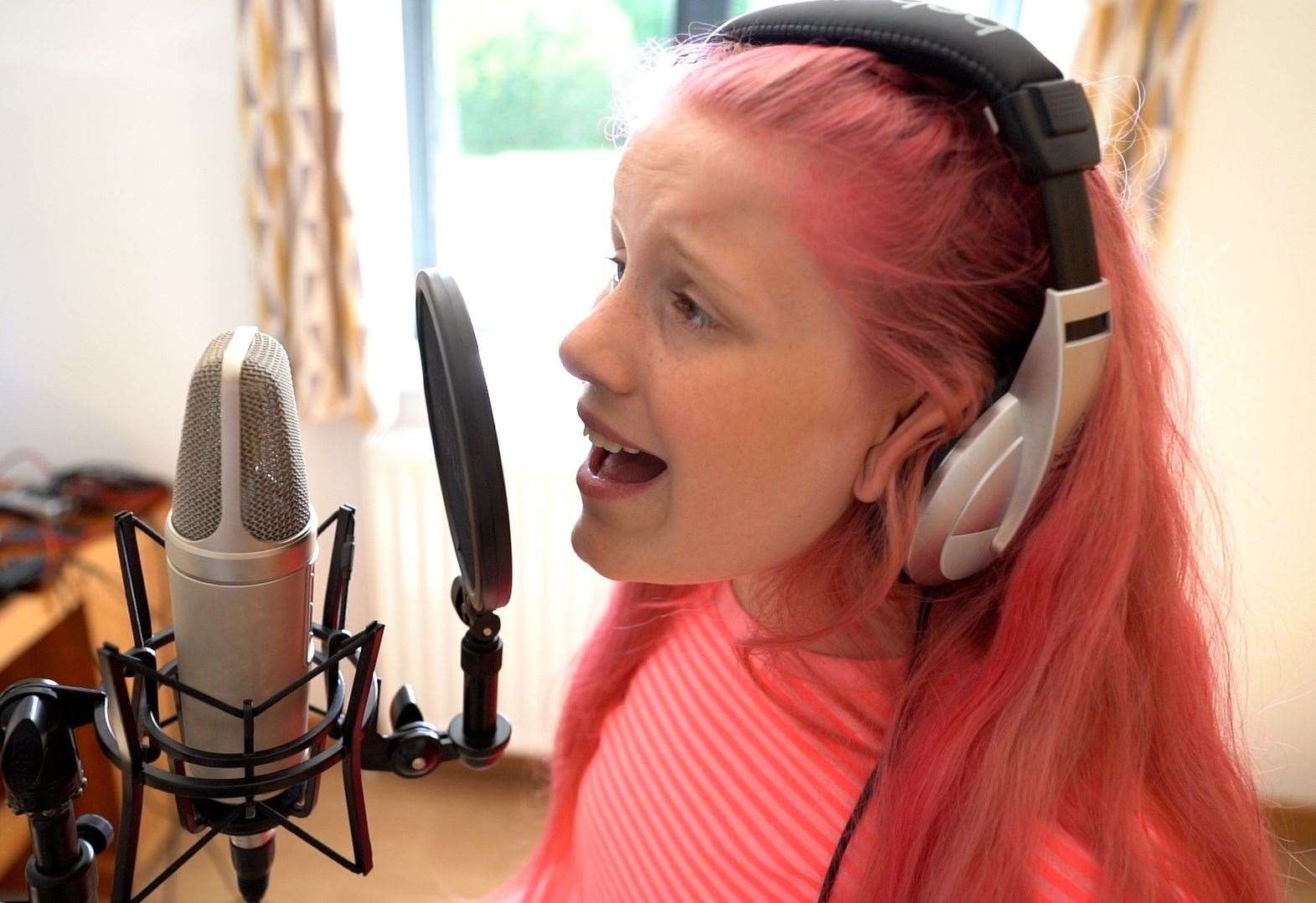 Lockdown feelings expressed in latest recording of young vocalists from Newbury's band VoxFresh
Flossy, 10, loves to sing. So it was a dream come true for her to write and star in a video for a vocal group in Newbury.
The Hermitage fan of Cimorelli has been singing since before she could speak, filling her days with made-up gibberish songs.
The youngster joined the VoxFresh group in March 2019 and was thrilled to have the opportunity to bring their lockdown-themed lyrics to life.
Laughter and Love (A Lockdown Song) features its lyrics and the work of Ellie, 17, Newbury, and Abbi, 16, Baughurst who joined together to create the musical elements.
The song was performed by the young vocalists of VoxFresh Newbury, ages four to 18, and a music video was filmed earlier this year.
You can watch the video on YouTube – www.youtube.com/watch?v=Qw5EZqEB2sk
Flossy said, "Singing makes me feel better and Kat [VoxFresh vocal coach] helps me and my voice to grow. Voxfresh always thrills me even though I've had a bad day.
"I wrote the words to 'Laugh and Love' as part of a project during the lockdown. We were asked to write words about the pandemic and how it made us feel.
"This is the first song I have ever written and it makes me proud, emotional and all excited on the inside!"
Ellie added, "The lyrics written by Flossy really reflect exactly how the lockdown felt for all of us – looking at the positives and negatives of the lockdown and the emotional roller coaster it sent us all.
"Watching the video really made it possible as I had hoped, and I'm sure Flossy would have made it. "
Kat Penn, vocal coach at VoxFresh, said she has witnessed the impact singing has on young people from her own choral experiences as a young person.
She added: "There is no doubt that singing has a huge impact on the mental health of young people – projects such as Laughter and Love have provided singers with a creative platform to express their feelings about a difficult time in their life. life, then working as a team to turn that into a new positive feeling and new success together.
"Projects like this inspired me to create a charity, VoxThrive, to specifically help young people engage in their vocal creativity in this way."
VoxThrive is a new charity aimed at supporting the mental health of young people in the Thames Valley through song.
Plans are underway to create a series of programs – led by local musicians and intended to include songwriting skills, music production and self-confidence building – to help young people use singing for themselves. feel good and continue to feel good.
The programs are expected to launch in early 2022 and more details will be posted on VoxThrive's Facebook page – @voxthrive.
If you are interested in volunteering for VoxThrive, you can contact them at [email protected]
---
---