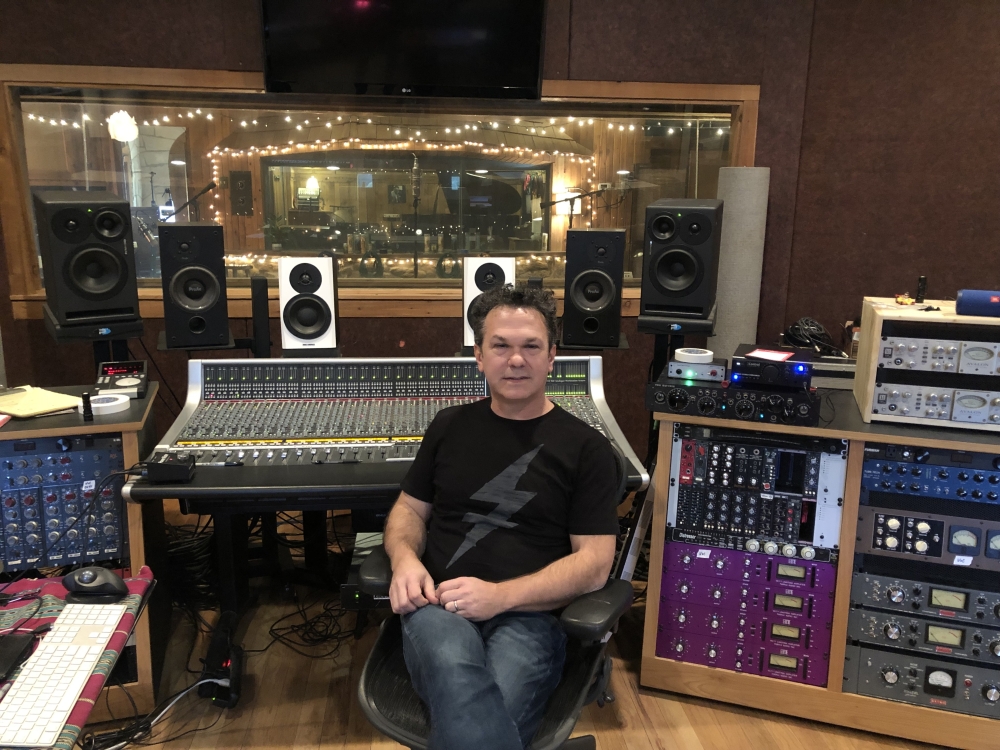 Longtime Local Music Producers Find New Home in South Austin Studio
Andre Moran, Chief Engineer of Cedar Creek Recording, sits in the studio. (Glorie Martinez/Community Impact Journal)
At the end of a gravel driveway that winds through a tree-strewn pasture is Cedar Creek Recording. The business operates from a stone house on a 9-acre farm at 5012 Brighton Road, Austin.
"Having a private place that's not in the country is what makes this place really unique," Cedar Creek chief engineer Andre Moran said. "You can go to Spicewood or Dripping Springs or Wimberley, and there are a lot of studios, but you have to get there. Here you are five minutes from everything in town.
Moran has worked and performed in Austin since 2004, when he and his wife and fellow musician Noelle Hampton moved to the area from San Francisco.
Moving meant that Moran had to find work. A Google search for "recording studios in Austin" led him to his longtime business partner, Mark Hallman, who also manages Cedar Creek Recording.
The pair began working together at the historic Congress House Studio at 7308 Congress Ave., Austin, which Hallman had owned and operated since the mid-1980s. There Hallman produced recordings for Carole King, Ani DiFranco and Oasis, among others. .
Moran and Hallman signed with Cedar Creek owners and moved into the studio earlier this year, after Hallman sold Congress House Studio in December.
"Mark and the previous owner of Cedar Creek were friends for many years," Moran said. "Mark did a lot of projects here in the '80s, so it's kind of a full circle. For a long time, people called Congress House and sister studios in Cedar Creek.
At Cedar Creek, Hallman and Moran foster a "musician-friendly environment," in which performers are encouraged to experiment with different equipment, instruments, and modes of recording.
"We keep a lot of instruments lying around, so if you're recording and wondering, 'What will it be like if we add this instrument?' you can take one and find out," Moran said.
Cedar Creek Recording
5012 Brighton Rd, Austin
512-444-0226
www.facebook.com/cedarcreekrecording
Hours: Mon.-Fri. 10am-5pm,
closed Sat.-Sun.